About the company
Manufacturer of sawmill machinery
Leading manufacturer of band sawing machines in Poland and Europe
The highest quality of products and services is guaranteed.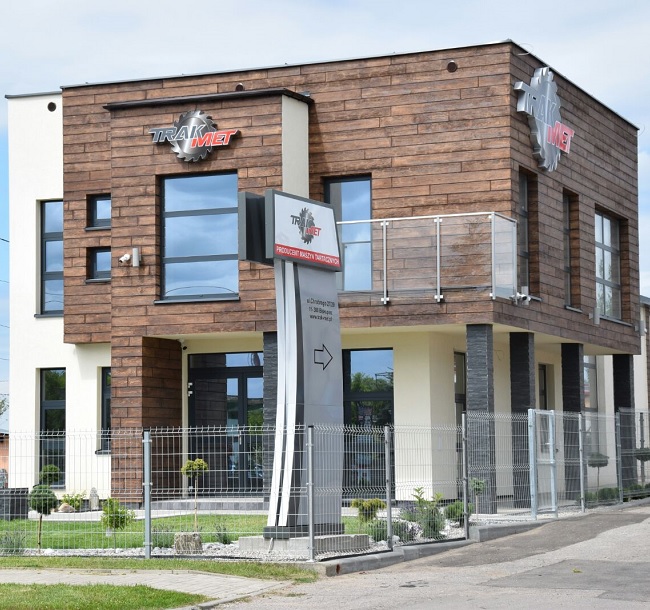 ---
TRAK-MET
a company based in Biskupiec at ul. Chrobrego 27/29 in the Warmia-Masuria Province, is one of the leading manufacturers of band saws in Poland and Europe. TRAK-MET, owned by Zbigniew Skillandat, was established in 1997 when it commenced manufacturing simple band sawing machines. The subsequent years resulted in a dynamic development of the manufacturing segment involving sawmill and farming machines. The production floors were extended and projects implementing new technologies were carried out as well.
---
Currently, TRAK-MET has at its disposal extended technical facilities and its own design & process department with highly qualified staff. Efficient performance is possible due to the use of modern tools of computer-aided design, such as Solid Edge. The company's production floors occupy a total area of 2,500 m2. The manufacturing process is based on the most modern technologies used for steel working, i.e. laser cutting of steel elements, machine cutting (CNC machines), modern press brakes, band trimmers, cleaning of finished elements in a shot-blasting chamber, final varnish coating in an electrostatic paint room. The final stage of our production allows obtaining repeatable products manufactured with the highest accuracy and precision.
When manufacturing safe and reliable machines, there is no compromise. We focus on the highest quality, and therefore, our suppliers of machine sub-assemblies are companies, such as SIEMENS NIEMCY – electric motors, SCHNEIDER ELECTRIC FRANCJA – automation and control solutions, CHIARAVALLI ITALY – transmission gears, HELUKABEL GERMANY – cables and ducts, OPTIBELT GERMANY – belt pulleys and V-pulleys, WINTERSTEIGER AUSTRIA – band saws, TIKKURILA – paint coatings, FAG/SKF – bearings, and GAMTECH/HYDROPRES – hydraulic actuators.
Our machines have been appreciated both by Polish and foreign customers. Currently, we export our machines to countries, such as Germany, Austria, Norway, Swiss, France, the Czech Republic, Slovakia, Lithuania, Latvia, Estonia, Russia, and Belarus. There, we have our sales offices and service centres.

---
Cooperation with Trak-met is a guarantee of success
Years of experience
---
as the leading manufacturer of band sawing machines in Poland and Europe
Foreign representatives
---
Extensive network of representative offices and services
Completed machines
---
The machines we manufacture are safe and reliable